Every once in a while everyone needs a good Reality Check. For writers of crime fiction this comes more often than perhaps others. Researching the setting, plot, characters and other critical elements of a story are essential for one to abide by the fundamental rule of writing about what you know.
Sometimes this requires stepping outside your comfort zone and into places you'd not see on a day to day basis. As fellow blogger and renowned crime writer Christopher G Moore once said, "You can't walk through a Bangkok wet market on the internet."
Many years beforehand my family taught me a similar lesson, and instilled in both my brother and myself the importance of education and that it is not a right for many people, but a privilege. "You may not appreciate it now, but one you really will…"
This week in Thailand, where my mother and I have been travelling, we went out of the comfort zone and off the tourist track to visit a small but dedicated and passionate organisation known as the Blood Foundation.
Located in Fang (pronounced Fung), about 3 hours north of Chaing Mai and approximately 10-15 kilometers from the Thai / Burmese border, the Blood Foundation funds the education for children who would otherwise be unable to receive any schooling. It does this through a sponsorship program of which I joined early this year. Some of these children are stateless or of "alien" status, without residency in either Myanmar (Burma) or Thailand.
Many are from the various Lahu Tribes or the Shan State in Burma and have fled to Thailand instead of being forced to become child soldiers in an independence battle that has being going on for decades and riddled with financial and geo-political connections to the international drug trade, human trafficking and other forms of conflict. To this day much of the conflict surrounding the "Golden Triangle" is funded through supplying a third of the world's heroin and an estimated 8 tons of methamphetamine every week.
Little wonder many families choose to flee across the border and settle as exiles or aliens in Thailand.
We visited the school and spent time over 2 days and nights observing the reality that these children endure and the benefits of the education and other support provided by the Blood Foundation.
The students are attentive and know that they are fortunate to receive education. The teachers (known as Khru) as such are highly respected and a simple "shhhh" and a finger to the lips is enough to quiet an entire room filled with raucous children.
The children are taught mathematics, English, Thai, history, science, sports and medication. A meal is provided free for every child, as are books, stationary, uniforms and school bags, as well as transports to and from school.
The sponsorship of my student, a 13 year old named Kham Bang, ensures he receives all of this for as long as he can, whilst at the same time maintain his commitments and obligations to his family, who run a small orange farm and would not otherwise be able (or willing) to send him and his brother to school.
We also visited the moonlight schools in one of the many Lahu villages, where poverty and lack of opportunity put western problems into genuine perspective. To the average westerner, a problem for the day might consist of deciding who to invite to your birthday party, or whether that dress you bought should be resized or exchanged. Those are not the problems experienced in these villages. Problems here consist of not knowing if you are going to eat today, or the next, or which child will succumb to the cold due to a lack of clothing or when the local warlords will send out their scouts to recruit young men into their regime.
Without the Blood Foundation, and its sponsors, the choices these children would have would be limited to early labor and the dangers of the underworld activities, be it drugs, guns, human trafficking, slave labor or prostitution. In Thai culture, the act of giving has many meanings and holds special significance. Sometimes referred to as naam jai, or water heart. The act of giving or doing something for someone else fits into this. But through giving one also receives.
As part of our visit we provided all the children with snacks and candy, soft toys and shared the same meals. We even played soccer with them and the joy of having been a part of this was worth almost as much as knowing Kham Bang and the other sponsored children are genuinely happy at school and receiving a quality education. For $300 USD per year, these moments are priceless.
Not to belittle the work done by larger charities, the work provided by the Blood Foundation is indeed genuine and every dollar thoroughly accounted for in a manner that ensures the children, teachers and schools are the genuine beneficiaries.
Everyone needs a decent Reality Check from time to time. For crime writers this comes more often than others. Researching is essential to write what you know. But in real life it also applies, to keep things in perspective. Is resizing that dress or taking it back to the store really a problem, or is there another world out there that you may not want to think about?
If so, then maybe a good reality check is in order. Take yourself out of the comfort zone and think about how you can make a difference. For me, making a difference (however small) has come through the Blood Foundation and its sponsorship program.
Education is not a right for many people, but a privilege. As John F Kennedy famously said "We all breathe the same air. We are all mortal. We are all human…" In a similar style, the Blood Foundation's byline reads, "Because we're all family."
If you wish to take part in this program and make real difference, you can do so directly through the Blood Foundation's website, or you do so through Heaven Lake Press and receive a limited edition copy of Christopher G Moore's cult classic "A Killing Smile", signed and leather bound with the hide skin from the original Thermae Bar in Sukhumvit, Bangkok, where the novel is set.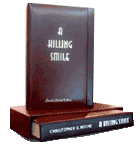 Related posts:
Comments
comments