This week's discussion examines the nature of good and evil, and how as writers, readers and viewers of the crime genre, we may become so entrenched in the evil world of noir and its inhabitants, that we forget , there are indeed some good people in the world. Read the newspapers or turn on the news and this is compounded. Media outlets the world over prey on our fear. It's what gets (and maintains) our attention. It's what keeps advertising space at a premium. Our fear is their profit.
Edmund Burke was an Irish statesman, author, orator, political theorist, and philosopher who served for many years in the British House of Commons. Burke also published a philosophical work where he attempted to define emotions and passions, and how they are triggered in a person.
I am not a fan of Edmund Burke or an opponent. I don't know enough to judge. All I can say is he left his mark on the world, one which has provided us readers and writers of crime (as well those who enjoy the genre on either the big or silver screen) with a careful use of words and a selection of philosophical quotations on law, politics and how people think, act and behave.
"All it takes for evil to succeed is for a few good men to do nothing…."
This is probably the most quoted statement attributed to Burke, and a number of variants of it exist, all without any definite original source. These remarks may be based on selection of Burke's ideas, but he is not known to have ever declared them in such a succinct a manner. It is, if you will, a paraphrase. Not a bad one either, but for the time being let's not allow the truth to get ahead of us, because in any case, the sentiment is highly emotional and does trigger a certain sense of right and wrong.
Part of the quote itself was even adapted into a film with an all star line up.
"You can't handle the truth!" is probably one of Jack Nicholson's, indeed Hollywood's, most famous lines. So does "truth" mean "right"?
I suspect not, as I have covered in previous discussions, but moving on…. I want to focus more on the "good" in people and the notion that we can all make a small difference. In the west, there a many phrases or proverbs that summarise this noble intention:
What goes around comes around. Swings and round-abouts. Love thy neighbour. Do unto others as you would expect others to do unto you.
These are all highly sentimental and in the wrong context, one could be considered a fool for believing such naivety. In the right context, they can make your day. They can even change your outlook on life. They can even, if put into a different framework, inspire another blockbuster Hollywood classic… Pay it Forward.
The simple notion that if everybody does something good each day for someone else, perhaps we can all make the world a nicer place.
Point in case.  While on vacation recently a young woman ran two blocks in 38c (Approx 100F) heat and spent 20 minutes on the beach trying to find me, as I had left my ATM card in her store. I thanked her, but she disappeared before I had the chance to offer her a tip. In the end I had to chase her almost 2 blocks to give her a tip – perhaps that makes it even!
And just yesterday, while eating sushi in a food court, a Japanese woman ran up to me smiling, and handed me my wallet. Somehow I'd left it on the counter. Obviously I need to be more careful with my possessions, but it got me thinking. What is it in a person that makes them choose to do the right thing or the wrong thing? Is it innate, part of some internal moral code? Is it our upbringing, our experiences in life? What would you do in these situations? Is there a 'finder's keepers' code in all of all, or just a few?
When was the last time someone did something nice for you? When was the last time you paid it forward?
"Tolerance is good for all, or it is good for none…."
The above is another Edmund Burke quote, one which I think the following example personifies.
My brother is an airline pilot who naturally travels frequently. On a recent trip he noticed a confused man of Asian descent having difficulty with a rude and curt Australian Airport security officer. (For those who have yet to grace our shores it's unlikely any of our Customs, Quarantine or Airport Security personnel will ever receive a Nobel Prize for outstanding customer service). On this occasion, the officer was demanding that the passenger remove his "laptop" and place it in the tray. The passenger didn't understand and the security officer became more obnoxious. My brother, who has previously lived as an ex-pat in Taiwan for a number of years, leant over and explained to the security officer that in Asia laptops are referred to as "notebooks".
Hearing the word "notebook", the Asian passenger smiled, nodded and removed his "laptop". The security officer said to my brother that he didn't care what "these people" called them because "This is Australia!"
As previously noted, not exactly a candidate for any customer service awards there.
Now, my brother, not one to suffer a fool or back down, sent a complaint email to the Airport Security Company and received a reply thanking him, stating that the officer in question would be referred to cultural sensitivity training. Hopefully the security officer cleans his act up, although it seems a systemic issue in Australia, as similar scenarios regularly occur when security officers request "mobile" phones, not "cell" phones, as they are known throughout most of the world and when they become distressed at how "these people" can't read or write English. Perhaps they all require some cultural sensitivity training, and a reminder that "these people" effectively pay for their salary…
Sorry Mr Security Officer, we know you have a job to do, but if you don't enjoy your job, either find another one, or just have a can of coke and put on a smile. It's not that hard.
"Laws, like houses, lean on one another…"
I must admit, I like this quote, as people are the same. We lean on each other when we need help. But what happens to those who have no one to lean on? Recently I agreed to sponsor a young boy from Burma through a reputable NGO known as the Blood Foundation. www.bloodfoundation.org
I was referred to this particular NGO based on transparency, due diligence and the notion that all of the money goes direct to the people, not to finance a large corporation-style charity that drives it's "volunteers" around in Hummers and SUVs, spending less than 20% of all donations on the people they claim to support.
The sponsorship is part of a program pioneered by fellow blogger and internationally renowned writer Christopher Moore. His publishing company made a recent decision to turn something arguably "wrong" into something "good". A total of 275 especially designed copies of his classic book "A Killing Smile" have been produced using the leather from the booths at the original Thermae bar in Sukhumvit, Bangkok, where A Killing Smile is set.
With the book comes the option to sponsor a child for one year. Most people who purchased this special edition book (including myself) have agreed to an ongoing sponsorship commitment for the time the orphanage keeps the kids in school. Some, including Christopher Moore himself, have taken on multiple sponsorship arrangements, meaning more good is being poured back into the world about which he and other authors write. If you wish to look into this yourself, see the link below. http://www.heavenlakepress.com/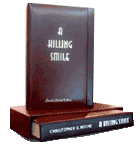 The boy who I sponsor is named Nong Kham Bang. He lives with his older brother and grandmother in a small hut on an orange farm on the Thai / Burmese border. Without sponsorship, Kham (surnames names are placed before given names in many Asian cultures) can not attend school, which means his choices in life are few. Living in the Golden Triangle, drugs and human trafficking are major influences when school isn't a choice.
"People never give up their liberties but under some delusion or lack of choice…"
My sponsorship buys him uniforms, stationary, a lunch box, food for each day and ensures he learns English, Maths, Thai and gets a decent amount of physical exercise. He enjoys volleyball, art and has a genuine desire to attend school. I have no children of my own, but embarking on this journey is heart warming and one day I do hope that I can meet Kham and his small family, and perhaps share a glass of freshly squeezed orange juice from their farm. Until then I'll settle for the regular emails I receive and pictures of his progress. He began his first day of high school this week, and I wish him all the best.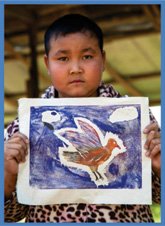 NONG KHAM BANG, Age 13
"Bad laws are the worst sort of tyranny…"
This next section is actually written by mother, who has endured more pain and suffering in the past few years than most western people will in their lives, and yet her capacity for kindness and an open heart seems limitless….
Another way to frame this is through what appear random acts of kindness. Are these really just transient or do they actually leave footprints on our memory?
We live in a world filled with real crime, murder, rape and of course wars that encompass all of these despicable acts. The call to arms is always the necessity for the continuance of democracy and the freedom of speech. Whilst freedom of speech is something we Australians take too often for granted, it doesn't hold a monopoly on random acts of kindness.
Flowery words perhaps but when we experience extended to us, we are more likely to want to extend that to others, even in war torn countries.
I was fortunate to spend a week in Taipei a few years ago where my son was working. He and his two companions decided to take me on a tour to the National Museum. When we left the Museum we were guided to a certain taxi that was designated to take us to the train station. This trip itself was a pleasant enough memory but what was to follow was truly a random act of kindness and worthy of note. We left the taxi and caught the first train and half way to the next station I noticed that I did not have my son's camera and he didn't have it either. I was considerably upset as my son had lent it to me and it contained all of his memories as well.
Neither of us said anything for some time and then simultaneously we both decided that we would return to the Museum in the hope of finding it.  The other two companions just laughed at us saying there was no way we would find a camera after such a long trip in such a busy place, but we returned on the next train and continued down the enormous staircase at the entrance of the train station only to be met by what seemed like a sea of taxis. All of a sudden a man tapped me on the shoulder and holding up four fingers shouted something in Mandarin.  I thought he was trying to tell me that the taxi my son was trying to get was for four people.  What this man was really trying to say was that he remembered us and that we were the party of four that had caught his taxi.  He simultaneously produced the camera with a beaming smile and to our amazement what seemed like a sense of pride and excitement.
We were so amazed and grateful that we immediately offered him (in fact we insisted he accept) a reward for his honesty.  He refused the reward, continuing to smile all the way back to his taxi parked about 20 rows back from where we were.  He must have found the camera and then joined the queue of taxis in the hope that we would return to look for the camera.
I can still recall vividly his smiling face and the wave of his hand as he took off in his taxi. When I think of the evil that exists in real life and portrayed in fiction, his smiling face gives me strength.  If a few more good people did a few more good deeds that this world would indeed be a better place.
I see many folk going about their daily lives randomly acting kindly towards others and whilst its tempting to be overwhelmed by the enormity of suffering that is occurring in our global village, its timely to be reminded of the small acts that contribute from afar.  In my suburb there is a Fair Trade Shop that is run by a group of volunteers, its called ONLY JUST, a not-for-profit "fair trade" shop.
It aims to help communities in the developing world build micro businesses that get them out of poverty. I often buy gifts and cards from this shop and every time I walk out hoping that, somehow somewhere, I have thrown a small rock into the lake of poverty and the ripples from my small rock lap at the feet of someone who needs it. You can visit the store here: www.onlyjust.com.au
An inspirational book I am currently reading is 'The Open Gate of Mercy' by Fr Joseph Maier.
This is a collection of stories from Bangkok's Klong Toey slum.  The parish Priest who lives beside Bangkok's main slaughterhouse is the founder of the Human Development Foundation – Mercy Centre.  In this book Fr Joseph has recounts stories from the people he has come to know over 40 years of service.

Father Joe, Bangkok.
In doing so, the reader is transported and journeys with the residents, as we witness their daily lives. These are real stories, and at times we are taken out of our comfort zone by the reality that drives these people to embrace life, despite often being devoid of privilege. The random act of kindness that Fr Joseph offers, as described on the cover of this book, lies in the way he portrays everyone as possessing an inner dignity.
A big special thank you to my mother, Gayle, who continues to battle the punches life throws her way, but maintains the heart of an elephant with a new born calf.
Perhaps the nicest act of kindness my mother ever did for me was to give me life, and be a wonderful mother. So what about you? When was the last time someone did something nice for you? What random act of kindness fell upon you? Did you paid it forward? What was your good deed for the day? Maybe you let somebody in take that car park you had your eye on. Perhaps you chased somebody down the street to give them something back. Or maybe you just smiled at somebody and spoke to them nicely as you went about your job. Whatever it is, do it again tomorrow. Do it everyday. I bet you'll feel a lot better… until you read the newspaper or watch the news!
Have a lovely day and spare a thought for those less fortunate than you.
Related posts:
Comments
comments